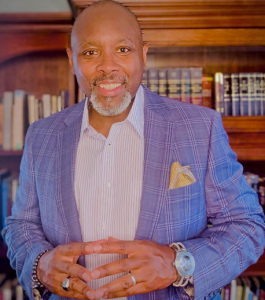 The Reverend Kahlil Carmichael, MAPCC, M.DIV.
Senior Pastor, Live Well Church
Reverend Kahlil Carmichael answered the call to ministry in 2003 and began serving as Senior Pastor of Live Well Church in 2009. As a youth of 9 years of age, Kahlil accepted Christ as his savior and his lifelong Christian journey began. Spending his formative years in Newark, New Jersey, at an early age Kahlil was driven to use his abilities to help others to improve their lives.
As a young man, Kahlil left corporate safety behind and started a full-time fitness and personal training business. With true entrepreneurial spirit – Kahlil obtained certifications, opened several fitness studios and became a sought-after fitness and health coach through The Fitness Doctor Incorporated.
He first pursued status as a "celebrity trainer", but God had another plan. He not only helped celebrity clients and everyone else become fit, he also helped them to shatter long-held misconceptions about their health and personal abilities – leading to physical and emotional transformation. The training sessions with his clients often became de facto confessions and Kahlil saw a divine connection to his call to serve in ministry. It was at this moment Kahlil accepted his call fully. Through his ministry, he could follow the leading of God to help transform lives completely - physically, emotionally and spiritually. Still in operation today, the Fitness Doctor continues to transform lives.
Kahlil started his ministry training at Cathedral International in Perth Amboy under the leadership of Bishop Donald Hilliard Jr. While obtaining two master's degrees from the prestigious New York Theological Seminary (NYTS), Reverend Carmichael was licensed and ordained at the Historic Berean Baptist Church in Brooklyn, New York under the leadership of Rev. Dr. Arlee Griffin, Jr. It was at Berean that he came closer to the vision God revealed to him.
In 2009, It is Well Living Ministries was born in Clark, New Jersey. As founder and pastor of It Is Well Church, Kahlil preached in hotels, in rented churches and storefronts! Eager to share the word he received (that God's people were meant to live well, live whole and live free), he and his family persevered. In moving to Somerset, New Jersey in 2013, It is Well Living Ministries became Live Well Church. Through an innovative partnership with The Fitness Doctor, Live Well Church of Somerset became a place where physical training, emotional breakthrough and spiritual strengthening came together to heal troubled souls.
A gifted counselor, Reverend Carmichael helped to restore mental and emotional balance through pastoral care and counseling. Through the Fit Care program, Reverend Carmichael offered free fitness services to the community, providing a means to conquer the chronic diseases that consistently ravage African American families. Through partnerships with organizations such as the American Heart Association, Kahlil worked tirelessly to raise awareness regarding silent killers such as diabetes and heart disease. As host of a local radio show, Living Well with Kahlil Carmichael, Reverend Carmichael interviewed celebrity guests and introduced the topics of emotional, spiritual and physical wellness to thousands of listeners.
In 2019, Live Well Church purchased a beautiful building in historic Robbinsville/Windsor New Jersey where they continue to thrive and to serve. Reverend Carmichael's message of inclusion, service and Godly love resonates within the community. Live Well Church is a safe place, where all can worship God authentically.
Reverend Carmichael, now a double graduate of NYTS, has completed a Master of Pastoral Care and Counseling as well as a Master of Divinity, in addition to five units of Clinical Pastoral Education. In 2020, as an Adam Clayton Powell Scholar, Reverend Carmichael pursues a Doctorate in Ministry at NYTS with a concentration in pastoral care and counseling. In addition to serving as Senior Pastor of Live Well Church, Reverend Carmichael is a Hospice Staff Chaplain at Penn Medicine in Princeton, New Jersey, where he brings comfort and spiritual guidance to the terminally ill and their loved ones.
Reverend Carmichael is a published author of a 30-Day Devotional for Guideposts Publications and a monthly column for The Positive Community Magazine. Reverend Carmichael additionally serves on the CARE Coalition for the Township of Robbinsville New Jersey, the Drug Reduction Task Force.
Through his work in the community, counseling sessions and teaching, Reverend Carmichael takes the lead in showing love and sacrifice for others, as did Jesus.
It is his heart's desire that all persons live whole, live well, and live free by way of relationship with the Father through His son Jesus.
A father of five, Kahlil lives in central New Jersey with his wife Yevette and their three youngest children.