We so look forward to our annual Health and Healing Revival!
On Sunday August 6th, we had our annual health fair with screenings, an exercise demonstration with Reverend Kahlil Carmichael, a healthy cooking demonstration with Lady Yevette Carmichael and a special presentation by Dr. Derrick DeSilva.  See it here: Five Points of Wellness
Tune in Wednesday, August 9th at 6:30 PM for an interactive Zoom presentation by James Gibbions Jr MD on the topic of family health!  Connect here:
https://us02web.zoom.us/j/83099585348?pwd=d0tGNlQ2QTBLaGh6Z3RweVJHQzVoQT09
Meeting ID: 830 9958 5348
Passcode: 508436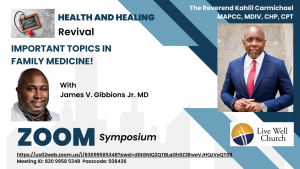 On Thursday, August 10th, at 6:30 PM Reverend Carmichael will lead an interactive Theological discussion on Zoom that will help put everything into perspective!  Join here:
https://us02web.zoom.us/j/82746149416?pwd=bHBqenVYVzlYNTdQdnhqOHd2SlNxZz09
Meeting ID: 827 4614 9416
Passcode: 279894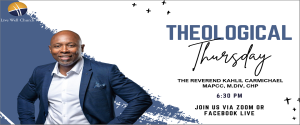 And don't forget to join our prayer call at 6:30 AM daily at (319) 527-9698!