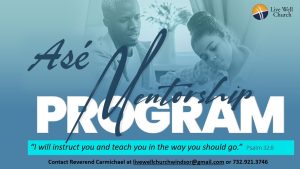 Live Well Church cares about our youth!  Pronounced Ah-Shay, this Yoruba word means "the power to change".  The mentorship program is designed to provide care and attention and to enable our youth to thrive!
Our Mission Statement: Asé mentorship empowers young people with the ability to transform: mind, body and spirit. This inner power from on high will help them transcend negative life circumstances so they might live well, live whole and live free.
Our Vision Statement: We envision young people who will grow into mentally, emotionally, spiritually and physically healthy adults who love God and live well.
Please join us for a night at Trenton Thunder Ballpark on Tuesday 7/25/23 at 7pm!  Please contact livewellchurchevents@gmail.com for more details!